National Geographic Photographer Joel Sartore Joins as 2021 Guest Juror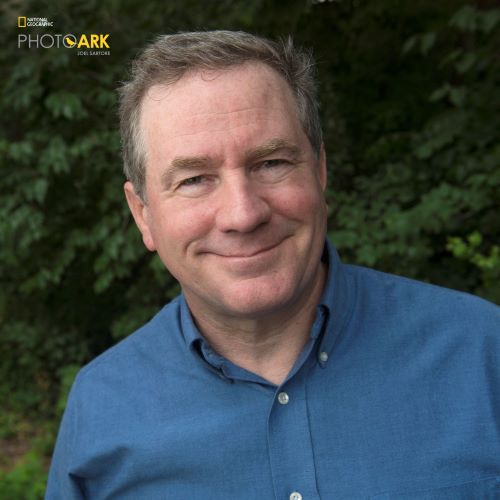 We are honored to welcome Joel Sartore as our 2021 guest juror for the Aging as Art Juried Photography Show!
Joel Sartore is a photographer, speaker, author, teacher, conservationist, National Geographic fellow and regular contributor to National Geographic magazine. His hallmarks are a sense of humor and a midwestern work ethic.
Sartore started the Photo Ark more than 15 years ago in his hometown of Lincoln, Nebraska. Since then, he has visited more than 50 countries in his quest to create his photo archive of global biodiversity. Sartore has produced several books including RARE: Portraits of America's Endangered Species, Photographing Your Family, The Photo Ark, Animal Ark and The Photo Ark Vanishing.
In addition to the work he has done for National Geographic, Sartore has contributed to Audubon magazine, Life, The New York Times, Sports Illustrated and numerous book projects. Sartore and his work have been the subjects of several national broadcasts, including National Geographic's Explorer, NBC Nightly News, NPR's Weekend Edition, Fresh Air with Terry Gross and the PBS documentary series, Rare: Portraits of the Photo Ark. He is also a regular contributor on the CBS Sunday Morning Show.
Sartore graduated from the University of Nebraska with a degree in journalism. He currently lives in Nebraska with his wife and children.
Inspiring Learning and Action
The National Geographic Photo Ark is a powerful tool to teach people of all ages about our planet's amazing biodiversity and foster a real connection to Earth's wildlife. The project engages students in the classroom through free educational materials and activities, and inspires the public through special exhibitions, books, TV specials, features in National Geographic magazine, and events around the world.
Saving Species
More than 26,000 species worldwide are threatened with extinction. That's why the National Geographic Society and the Zoological Society of London (ZSL) launched the National Geographic Photo Ark EDGE of Existence Fellowship program. Using a scientific framework to identify the world's most Evolutionarily Distinct and Globally Endangered (EDGE) species, the program builds conservation capacity in targeted regions across the globe to protect some of the most threatened, distinct and wonderful species on the planet by funding and training local conservationists. The program also provides funding, training, and capacity development to on-the-ground conservationists.
Recent Posts
Be sure to follow us on Instagram to receive the latest contest updates and giveaways. In the coming weeks, we'll be launching contest giveaways that are exclusive to our Instagram followers. Prizes include digital gift cards and free contest entries.
Hear from our CEO, Lisa Wright Jenkins, and the winning photographers of 2020. Visit our winning photographs page to view all past winners.
How do you perceive aging today? Is it the thriving lifestyle of seniors taking on new careers, volunteering or being physically active? Or is it the traditional notion of the harsher realities of aging?