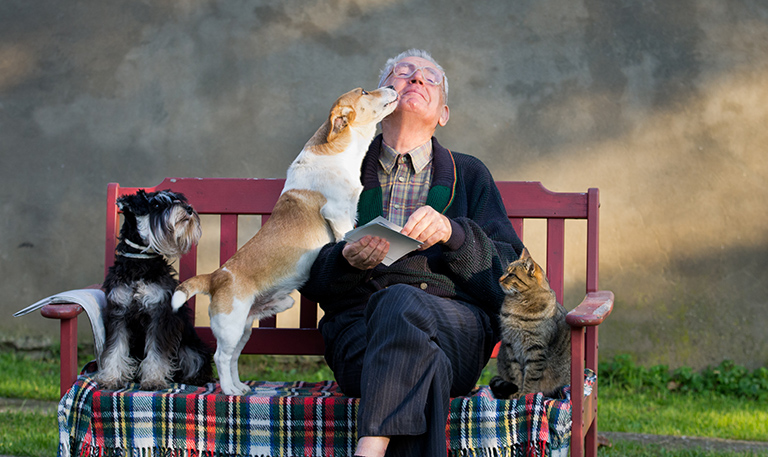 The Benefits of Pets During COVID-19
Throughout the country, animal shelters are reporting upswings in the numbers of animals they've been able to adopt out or place in foster homes. According to Kitty Block, president and CEO of the Humane Society of the United States, "the rates of fostering, in particular, have increased by 90 percent in some cities."
Orange County animal shelters and pet stores are closed but still finding ways to maintain their adoption programs along with asking the public to foster. When you can't leave your house to socialize people are deciding now is the perfect time to bring home a pet. OC Animal Care in Tustin is offering discounted adoptions and providing lost-pet services by appointment only.  The City of Irvine's Animal Care Center has a seniors program. They waive adoption fees for individuals age 62 and older when they adopt a senior animal.
Pets provide valuable companionship for older adults.  Studies have found pet owners are less likely to suffer from depression than those without pets. Pet owners over age 65 make 30 percent fewer visits to their doctors than those without pets. One of the reasons for these therapeutic effects is that pets fulfill the basic human need for touch. Stroking, hugging, or otherwise touching a loving animal can rapidly calm and soothe you when you're stressed or anxious. The companionship of a pet can also ease loneliness, and most dogs are a great stimulus for exercise, which can substantially boost your mood and ease depression.
Covid 19 and Animals
Based on the limited information available to date, the risk of animals spreading COVID-19 to people is considered to be low. The CDC is aware of a small number of pets, including dogs and cats, reported to be infected with the virus that causes COVID-19, mostly after close contact with people with COVID-19. Only a few of the animals reported to be positive showed signs of illness.
Until we learn more treat pets as you would other human family members to protect them from a possible infection.
Do not let pets interact with people or other animals outside the household.
Keep cats indoors when possible to prevent them from interacting with other animals or people.
Walk dogs on a leash, maintaining at least 6 feet (2 meters) from other people and animals.
Avoid dog parks or public places where a large number of people and dogs gather.
Pets provide powerful benefits, consider the impact that one can have on your life.
For more information visit: