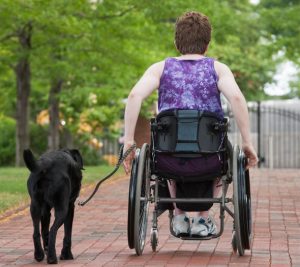 Preparing for the Future –
Who Will Care for You?
What if someone told you that next year, your life would dramatically change – and not for the better? How would you prepare for the future?
This is the story about one client from our Health Insurance Counseling and Advocacy Program (HICAP). Sharon* has a disabling disease of the central nervous system that has left her living in a wheelchair for the last 20 years.  She currently is 68 years old.
When Sharon was first diagnosed, she took out a Long-Term Care Insurance (LTCI) policy immediately, knowing that life had forever changed. She didn't want to have her entire savings drained away without being able to afford the care she would need later in life.
As the years went by, she lost her family. Close friends moved away. As her network of support diminished, she became more isolated and homebound. Furthermore, Sharon just learned that she only had a short amount of time to enjoy the limited mobility she had come to accept as her fate; she would require 24-hour care next year and needed to get her affairs in order.
Sharon called HICAP feeling overwhelmed and gripped by fear. She was not sure how to activate the LTCI policy she had purchased so many years ago – what it covered and whether it was still valid. HICAP was able to accommodate her disability and provide extensive counseling by telephone. She was very concerned about the next year and how she could afford it, what the policy covered – she did not have the money to pay for in-home or long-term care with the limited assets she had remaining.
Our HICAP counselor was able to help Sharon and ease her mind about the future. They reviewed the LTCI policy in detail, including how to activate the policy and what it covered. She was relieved to realize that it did cover in-home and facility care. That she would be able to get the care she needed in her future. Our HICAP counselor advised her to obtain the summary of benefits updated with current payment amounts and 16 years of inflation protection. This would help her understand and see what she could budget and plan for. It helped bring a sense of order to the future, being prepared for the inevitable and planning accordingly.
According to federal government projections, about a quarter of Americans turning 65 between 2015 and 2019 will need up to two years of long-term care. But one in seven Americans turning 65 today will face more than five years of disability, with potentially dire financial consequences. Medicare covers only short stints in a nursing facility. Medicaid can fill the gap, but only after you've depleted most of your assets. Long-Term Care Insurance policies may charge more and provide shorter benefit periods, but they continue to pay for much-needed care.
The health insurance industry is evolving and bringing consumers new coverage choices, but even the existing choices can be confusing. Most people are uncertain about what benefits are covered by their policies, beyond nursing home or assisted living care.
Our HICAP counselors are specially trained and state-registered to provide counseling to Medicare and Long-Term Care Insurance policyholders, or individuals seeking information on LTCI and Medicare policies. HICAP can help you understand your health insurance options and rights, and provide guidance from an unbiased perspective.
Struggles like Sharon's happen more often than one could imagine. When we plan for the future, it should not involve the fear of wondering who will take care of you. Planning your healthcare can seem overwhelming and as if there is no one to turn to when you are presented with difficult life decisions.
Help the Council on Aging – Southern California empower and protect older adults like Sharon. We can make our community a better place, and we can protect the lives of older and disabled adults together.
If you found this story inspiring, please consider making a donation to help the Council on Aging – Southern California continue to help seniors like Sharon and the many more in our community who need our support.
Thank you.
*Names have been changed to protect the privacy of individuals.