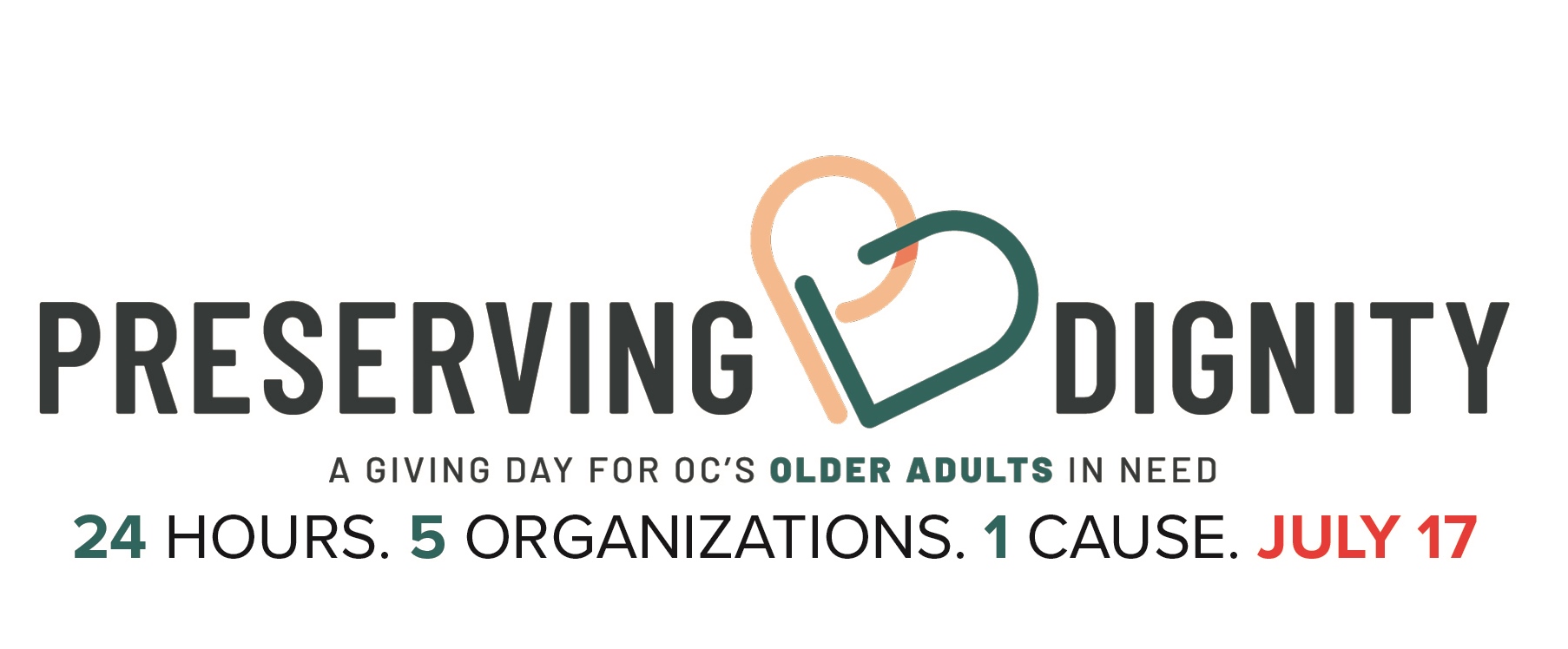 COASC PARTNERS WITH OCCF TO HOST 2nd ANNUAL "PRESERVING DIGNITY: A GIVING DAY FOR OC'S OLDER ADULTS IN NEED"
Irvine, Ca, (July 9, 2019) — Council on Aging – Southern California (COASC) has partnered with the Orange County Community Foundation (OCCF) and four fellow nonprofits on July 17 to host the second annual Preserving Dignity, a Giving Day for OC's older adults in need. Preserving Dignity is a 24-hour online fundraising effort that aims to raise $75,000.
Preserving Dignity is part of a bold initiative by OCCF to boost the capacity of local nonprofits through a series of Collaborative Giving Days. Nonprofits with shared missions are invited to come together to boost collective giving for their causes. OCCF will power the Preserving Dignity campaign with seed funding to support the marketing assets, campaign resources and collaborative partnerships.
"Aging impacts us all.  Orange County's older adult population (65+) is the only population segment that is growing in our community and in 2019, it will grow by 10%.   Many isolated older adults are struggling, and they rely on the no-cost programs and services of the Council on Aging – Southern California to keep them healthy, connected and protected.  Support from Preserving Dignity allows us to reach out and serve these important members of our community." – Lisa Jenkins, CEO, Council on Aging – Southern California.
The five organizations participating in Preserving Dignity include Alzheimer's Orange County, Council on Aging – Southern California, SeniorServ, Southern California Hospice Foundation and St. Francis Home.
OCCF first challenged Orange County residents to "give where their heart lives" during the inaugural i©oc Giving Day in 2015, raising more than $1.8 million through gifts to 347 participating nonprofits in just 30 hours. OCCF nearly doubled those results in 2016 during the second annual i©oc Giving Day, receiving contributions totaling $3.2 million for 418 participating nonprofits. In 2017, OCCF re-envisioned i©oc as an expanded opportunity for nonprofits to connect with one another in support of their shared missions. The seven Giving Days held throughout 2018 raised a total of $1.4 million for local organizations.
To give online, please visit preserving-dignity.funraise.org. For more information, please visit oc-cf.org/iheartoc.
ABOUT COASC
The Council on Aging – Southern California has been a trusted 501(c)(3) nonprofit organization since 1973, providing unbiased information, programs and services to more than 290,000 adults and families annually. We promote the independence, health and dignity of older adults through compassion, education, and advocacy. Every day we help seniors remain healthy, connected, and protected.
###