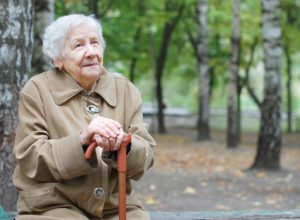 When We Grow Older
When we grow older, there is no "how-to" book on aging. We all are very uncertain and unprepared when it comes to our future. What matters most? Is it our financial and physical health, or our mental health? When our cognitive abilities begin to decline, who will we turn to for help?
Our Ombudsmen advocate for older and disabled adults who are often alone and forgotten in skilled nursing facilities. We had received a phone call about Barbara*–a nursing home resident, who had been served a 30-day eviction and needed our help.
As Ombudsmen, we were baffled; Barbara did not seem like a 'problem' resident that needed to be evicted. She may have been outspoken and critical of the facilities short-comings, but in no way was she a harm to herself or others. Her self-esteem plummeted by being labeled a problem. Our volunteer Ombudsman interviewed the other residents who said Barbara was funny and well-liked in their community. When the Ombudsman spoke with Barbara, she would sit and discuss life for over an hour.
Letting Go Of The Past
Barbara did carry a lot of pain inside of her, as older adults often do. She was hurt from the past and kept reliving guilt from years gone by. These emotions were trapped inside her, and she had built up a wall to keep others out– which sometimes manifested in behaviors that others didn't understand.
Ombudsmen are advocates. They are here to serve and protect the residents. Sometimes the best way to help someone is to offer a listening ear and compassionate support that can lead to an emotional release. Our Ombudsman suggested to Barbara that she write a letter to whoever caused her pain in her life, or who she thought she caused pain to. For her to write down all her feelings, all the words she was never able to say to people in her life but wished she had. Write them all down and when you are done, throw them away.
Barbara liked the idea. Our Ombudsman gave her a notebook and she began writing. She wrote to her father, her mother, her siblings, and her children. She wrote and detailed all the pain and loss she felt, and she put in all in the notebook. It was transformative and healing. She began to release all of the pent up emotions that had been haunting her for years. She even wrote letters to her grandson who she had not been able to see.
The Ombudsman suggested she keep all of the letters to her grandson and save them in a shoebox. When she saw him again, she could give her grandson a box full of letters, and he would know that not a day went by that his grandmother wasn't thinking of him.
Empowering Self-Change
Within a week, there was a noticeable change in Barbara's behavior. Her depression began to lift. She began to have a more positive outlook on life. Barbara did end up moving facilities, but she found another nursing home that was closer to her children so she could see them more.
This example is just a small way our Ombudsman volunteers can make a significant impact on the lives of residents in skilled nursing homes. Sometimes all you need is just one person who takes the time to care, and empowers you to make transformative self-change.
Struggles like Barbara's happen more often than one could imagine.    Please help the Council on Aging – Southern California continue to serve older adults like Barbara. We can make our community a better place, and together we can protect the lives of older and disabled adults.

If you found this story inspiring, please consider making a donation to help the Council on Aging – Southern California continue to help seniors like Barbara and the many more in our community who need our support.
Thank you.
*Names have been changed to protect the privacy of individuals.