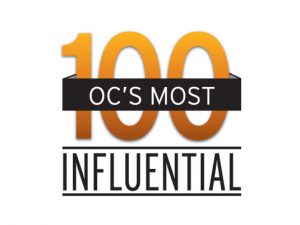 Council on Aging – Southern California CEO Lisa Jenkins selected as one of Orange County's 100 Most Influential People in 2018
IRVINE, CA (December 27, 2018) – Council on Aging – Southern California CEO Lisa Wright Jenkins has been selected as one of the 100 Most Influential People in Orange County. The Orange County Register has highlighted people who inspired and changed lives in 2018 and influenced our community for the better.
"I'm deeply honored to receive this important recognition as an influencer from the OC Register. Those who have influenced me are the seniors and disabled adults whom we serve every day at the Council on Aging – Southern California. They are such important members of our community. Together with my team, we proudly help them remain healthy, connected and protected." – Lisa Wright Jenkins
Since 2012, Lisa has spearheaded the Council on Aging's growth in its employees, service areas and program offerings. COASC was recently awarded the Ombudsman Services contract by the Riverside County Office on Aging. The award expanded COASC Ombudsman services to include advocating for the 14,256 vulnerable older adults living in 518 long-term care facilities in Riverside County. The Council now serves over 290,000 older and disabled adults across Orange, Riverside, San Bernardino, Inyo and Mono counties.
Daryl YeeLitt currently serves as Chairman for the Board of COASC and was proud to announce to staff, "We are extremely pleased that she was selected and this is a small example of all she has done for the seniors in Orange County (as well as the Inland Empire). She has raised the visibility of the agency to many organizations and individuals and has increased the support we receive from companies, foundations, other nonprofit organizations and individuals."
ABOUT COASC
The Council on Aging – Southern California has been a trusted 501(c)(3) nonprofit organization since 1973, providing unbiased information, programs and services to more than 290,000 adults and families annually. We promote the independence, health and dignity of older adults through compassion, education, and advocacy. Every day we help seniors remain healthy, connected, and protected.
###