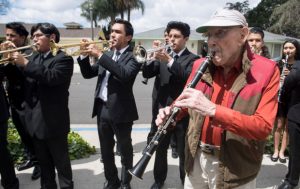 The Secret to Longevity?
"Just Don't Die!"
Have you ever received a random phone call that brightened your day? That made you smile? Elmer called the Council on Aging – Southern California one day, almost five years ago, and something beautiful happened.
Elmer called us to talk about our Answers Guide and how much he loved it. He especially liked sharing this great resource with his friends and family. During this call, Elmer mentioned he had a milestone coming up, his 100th birthday.
Our Answers Editor, Marilyn made a date to visit and celebrate Elmer's 100th birthday the following week. When she arrived in Anaheim, where Elmer has lived for the last six decades, he was beaming and wearing his special shirt for visitors. As it turns out, Elmer loves having company over. He welcomed Marilyn into his home with open arms. She met his wife and children. She learned Elmer is a retired realtor who keeps up his license, watches the stock market, and is apparently the oldest clarinet player in Orange County. Smiles, good cheer, and cake were shared by all that day. It was the start of a blossoming friendship.
Over the last five years, Marilyn has visited Elmer many times. Special occasions such as birthdays are always celebrated in high fashion. When he turned 103 he was feted at the Tustin Senior Center. For his 104th birthday, he was surprised by Anaheim High School, who organized an event honoring him. The high school marching band came by to play "Happy Birthday" and his old alma mater song. Elmer whipped out his clarinet and joined along.
Laughter, they say is the best medicine. When asked during his birthday what was the secret to long life, Elmer replied with a twinkle in his eye, "Just don't die."
Aging is a dynamic process, there is always something more to learn. Working at the Council on Aging is more than a job as Marilyn can attest. It provides us a connection to humankind, and the need for kindness and compassion in our lives – and the opportunity to share that kindness in our community.
Sometimes brief moments of kindness are easily overlooked in our fast-paced world, but as our elders would agree, sometimes moments can last a lifetime as a cherished memory to never be forgotten.
Every day we receive calls asking for help. People are frightened or confused; they need help caregiving for their loved ones, information about elder abuse and financial fraud, or referrals to assisted living facilities. That's why calls such as Elmer's are such a joy. After nine years, our Answers Guide continues to be a trusted community resource and provides a wealth of information to help navigate the aging process. We hope it helps you on the road of life as well.
Help the Council on Aging – Southern California connect and provide resources to older adults like Elmer. Please donate today to make our community a better place, and help us protect the lives of older and disabled adults together.

If you found this story inspiring, please consider making a donation to help the Council on Aging – Southern California continue to help older adults like Elmer and the many more in our community who need our support.
Thank you.