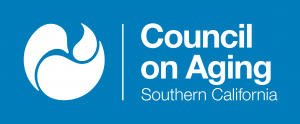 Council on Aging – Southern California Appoints New Board Vice Chair and Elects Two New Board Members
IRVINE, CA  (December 18, 2018) – The Council on Aging – Southern California is pleased to announce the appointment of Daniel Holtz as Vice Chair and the election of two new members to the COASC Board of Directors. Dan Holtz is a founder of Sovereign Lending Group, Inc. and will serve a one year term as Vice Chair. New board members include long-time supporter of older adults Dr. Gwyn Parry, M.D. former Director of Hoag Hospital's Community Health Department and Brian Ruttencutter, former Chief Financial Officer with Cumming Group, Inc.
"I am pleased to welcome Dr. Parry and Brian as new board members and Dan as our new Vice Chair," said Lisa Jenkins, CEO of Council on Aging – Southern California. "These individuals bring a wealth of experience and expertise in their fields. They will be tremendous assets to the Council as we further our mission of advocacy, support, and protection of older and disabled adults in our community."
The Council's Board of Directors is comprised of individuals from the aerospace, finance, legal, and business communities of Orange County. It is the Board's responsibility to provide counsel and guidance in the direction and operation of the Council on Aging as well as raising awareness of the Council's services to the surrounding communities.
ABOUT COASC
The Council on Aging – Southern California has been a trusted 501(c)(3) nonprofit organization since 1973, providing unbiased information, programs and services to more than 290,000 adults and families annually. We promote the independence, health, and dignity of older adults through compassion, education, and advocacy. Every day we help seniors remain healthy, connected and protected.
###
Media Contact:
Aerielle Nisson
Phone: 714-479-0107
[email protected]